It was a beautiful wedding.
Glowing candelabras. Endless yards of eggplant silk and lace that were crafted into nine (yes, nine) floorlength bridesmaids gowns. Fragrant bouquets of iris and freesia.
My brother got married nearly twenty years ago, but I still remember many of the details. Indubitably, it was also one of my more embarrassing experiences.
This was my first wedding… and my first experience with how sentimental I get at weddings. As we stood in front of the congregation, I remember being washed over by emotions. Somewhere between "who gives this woman" and "I Do," I started to cry.
And then it came. I felt my nose start to run.
I suddenly realized I hadn't thought ahead enough to bring Kleenex with me. Not that there would have been anyplace to stash one, anyway. I silently cursed the designer who had created a dress with enough fabric to make a small tent, yet didn't have enough left over to put in one tiny pocket. I gave a little sniffle and silently willed my nose to stop running.
It didn't work. The boogers came faster. And in more abundance.
"Maybe no one will notice," I thought to myself.
A few minutes later, I caught the eye of another bridesmaid, my sister, standing a few feet away from me. She wriggled her nose at me Bewitched-style, as if to signal, "Psst, you've got a river of snot running down your face." Indubitably, someone had noticed.
Because by this time, the stream of boogers had made their way down my face at an alarming rate, and were now dripping from my chin in a very unladylike fashion. I began to really panic. My options were limited.
I looked down at the gorgeous display of flowers I was holding. I won't go into the elaborate details. But I will say that by the time I walked back down the aisle, most of the snot was gone from my face.
Indubitably, however, the flowers had seen better days.
I wish I could say that was the end of the story. But of course it isn't.
Ditching the flowers on a nearby bench, I quickly escaped to the restroom to compose myself and clean up. When I emerged a few minutes later, I went to collect my belongings… only to find them missing. I figured maybe the flowers got thrown away, or my sister picked them up.
As my sister told me later, this was not the case. Apparently, the bridesmaids bouquets… all nine of them… were rounded up after the ceremony, and used as decoration in various other parts of the reception. Like centerpieces. Or at the buffet. Or on the cake table.
I'll never know where mine ended up.
But I learned some valuable things from that wedding. I've never gone to another wedding since then without plenty of Kleenex on hand. And, indubitably, I always steered clear of the bouquet toss.
Indubitably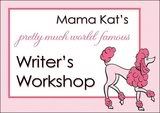 3.) Write about a true embarrassing moment…