When I was little, I wanted to be a motorcycle police officer, like on CHiPs.
I thought Erik Estrada was simply the coolest, and I aspired to be like him. Cruisin' down the freeway and chasing the bad guys. And in the end, he always got the girl.
Also? Those shades… so dreamy.
By the time I got to college, I had come to the sad realization that maybe CHiPs wasn't my calling. But I still didn't know what I wanted to be. I think I changed my major practically every semester.
I work in computers now, which is a far cry from a motorcycle policeman… or any of the things I studied in school. And some days, I wonder if this is really what I want to be when I grow up.
And every once in awhile…
… I think about Ponch and what my life would have been like as a motorcycle police officer. A small part of me would like to think that Ponch and I aren't that different after all.
I chase away the bad guys, at least the ones that crop up in nightmares.
I clean up accidents on the highway in the pool.
Some days, I think my entire life is in the fast lane.
I don't have a motorcycle, but we do own a few shares of Harley Davidson. And if we ever win the lottery, I told Jay he could buy a motorcycle of his own… as long as he gets a sidecar for me to cruise with him.
And in the end, I got the girl.
A sweet, spunky little four year-old who, at least for the time being, looks at me as her own personal hero. I dread the day she wakes up as a teenager, where I've turned into the bad guy.
But for now… until I figure out what I want to be when I grow up… that's good enough for me.
I'm linking this puppy up to a couple of different memes this week:
#2. When I grow up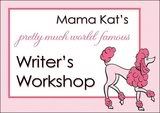 #4. It happened on a motorcycle.